My rule for kid's costumes is that they must be cute (not too spooky), crafty, and able to brighten someone's day. A tall order? Here are my ideas for the best costumes for kids that can be crafted in about an hour. Both will definitely bring a smile to everyone you see.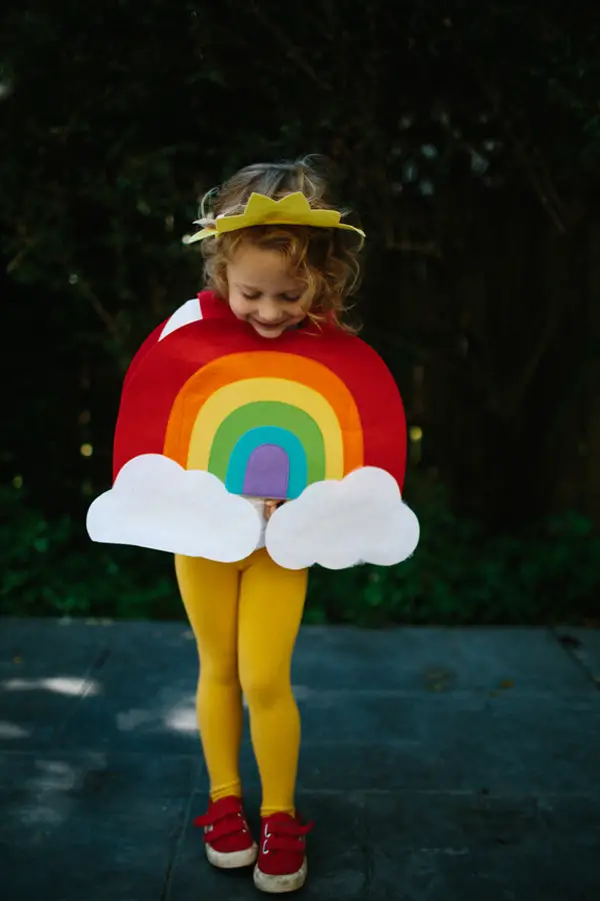 I'm not sure anyone can look at this sweet rainbow costume without breaking out in an enormous smile. It's festive, fun and defiantly one of the best Halloween costumes for kids
Rainbow Halloween Costume
To make a felt rainbow costume; cut out two large half circle of red felt (you can find yards of felt in the rolled fabric section), connect the two half circles with red felt straps to go over the shoulders. Lay the base out and begin cutting half circles in descending sizes to create the rainbow affect for both the front and the back. Glue in place from largest to smallest. Cut out 4 cloud shapes from white felt and glue to the bottom ends of the rainbow.
Pair the sweet rainbow with a yellow felt sun beam headband, yellow tights, and colorful shoes for a brightly beaming kid's costume.
DJ Kids  Halloween Costume
When you are not parting the clouds, bringing a dose of pop and funk is another awesome way to turn Halloween into a festive, fun party! This iconic hipster DJ costume with/or without real music will be sure to bring grins to all your fellow trick-or-treaters.
To make the hipster DJ Halloween costume start with a cardboard box. Cut off one long top flap and one long bottom flap. Connect the two with glue to create the boom box handle. Tape the remaining flap down to keep your box secure. Paint the box and the handle a bright/bold color. Add the speaker and button details by painting smaller pieces of cardboard and gluing them onto the box.
Add a pair of headphones, Converse sneakers, a beenie, and a puffy vest for classic DJ style. For extra happiness stick a small tape player inside and leave the top of the boom box open for pressing play as you stride by.
More of the best Halloween costumes for kids a honeycomb, a birthday cake, or a party lantern on for size.