Inside: The cutest winter wonderland cake for any snowy celebration like a winter wonderland cake birthday! 
Today is our first real winter storm. Not a pretty dusting, but an all out I'm sliding around the road kind of storm. It seems appropriate considering the day, to share with you my new favorite holiday cake. A winter wonderland cake that will look amazing at your Christmas gatherings, holiday parties, and a winter wonderland cake baby shower – really anywhere you want a pretty display throughout the season. And for all the gorgeous festivities of it, the winter wonderland cake topping is the easiest thing to make for baby showers and winter wonderland birthdays!
Winter Wonderland Cake Decoration
The incredible ease of making this cake look amazing is perhaps my favorite thing about it. I love the idea of using this cake as a winter wonderland cake baby shower theme or even more fun a winter wonderland cake birthday party! During the snowy season, there are three simple steps to making this show-stopping wonderland cake for any celebration.
First, gather sprigs of evergreen from nature (I was so excited when I learned that evergreen is actually edible!), choose berries to accent, but be sure they are safe to eat before placing them in your cake.
De-sprig the bottom of each of the branches, wash and dry each branch. Then top your cake with whip cream mounding it on the top to look like snow mounds. Chocolate shavings add a pretty and tasty addition. Lastly, place the sprigs, berries, and candles in the cake to welcome winter with a celebratory touch!
We love a Winter Wonderland-themed party, here are a few winter-inspired projects!
The possibilities for this cake decoration are endless! I keep imagining this winter wonderland cake baby shower, with this adorable spread of yummy treats. Or a snowy celebration with this winter wonderland cake birthday, and match ice queen birthday crowns!  Here are a few more wintery celebration ideas: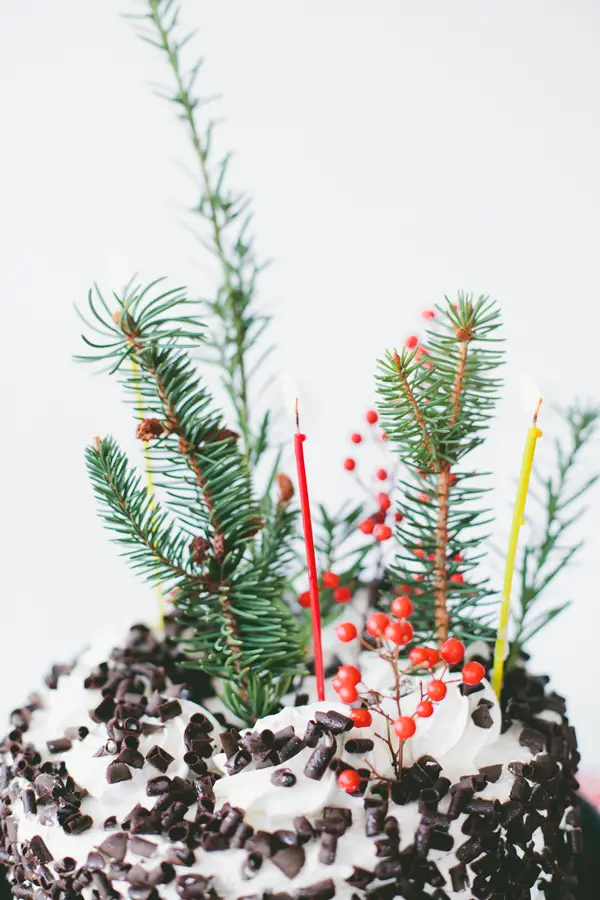 Photography was done in collaboration with Jocelyn Noel Photography.