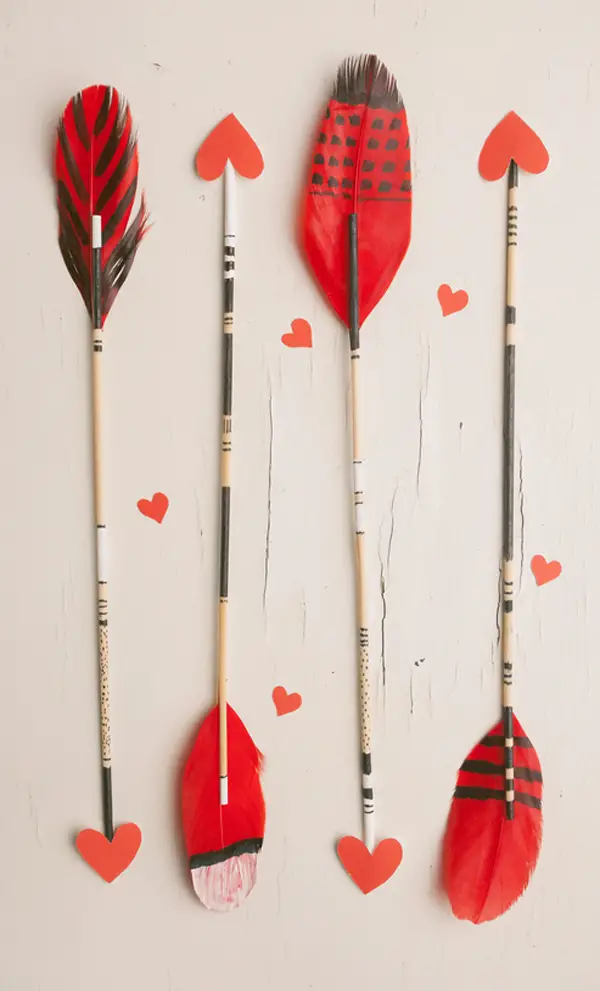 Valentine's Day is almost here! Are you ready for it? We have been working all week to make these cute valentines for my boys class and buying up all the heart balloons I can find for decorating the twins kindergarten Valentine's day party. In case you are still in search of a perfect way to say I love you – here are 3 great ideas that are amazingly sweet, and that you can pull together right down to the last minute. Ready, set, Valentines…
A set of cupids wooden arrows are a great way to decorate a gift for your guy. A little love, and a little paint is all that's needed to turn any gift into this cupid worthy package. No time for buying a gift, these arrows can be hidden throughout the house for a sweet someone to find as they go through their day, just write a little love note on each heart. Hide one in the coffee, one by the toothpaste, one on his pillow (you get the idea:).
To make the wooden arrows, use bamboo kitchen skewers and paint. I love the look of graphic lines painted in black and white. Glue on a painted feather at the top and a paper heart at the bottom for a simple Valentine that shoots straight for the heart.
Post-it notes filled with jottings of love. This is such an easy idea, and will be absolutely amazing to wake up to Saturday morning. To create it, purchase heart shaped post-its, or cut out your own. Print all the reasons you love that special someone and stick them up in heart formation. Love. Check.
Lastly, in case you end up short on the classroom Valentines, cutting and folding a paper towel roll will give you instant packages for something sweet. Don't forget about the teachers tomorrow! A kid decorated box filled with something sweet tucked inside is a cute way to make any teacher feel extra special. xoxo
Check out our Valentine's day ideas.
(Photography © Eduard Bonnin, Milena Milani, Jill Chen/Stocksy International)