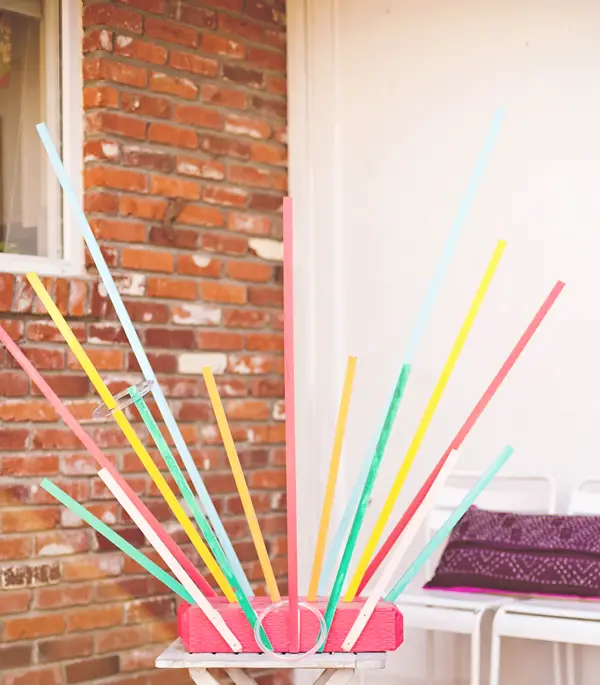 Now that summer is almost here we are moving all the gatherings we can outdoors. I love having a game or two outside to get friends moving around, chatting and competing. Friendly competition begets the best inside jokes – don't you think?
Great party games allow for spunky competition, while still making room for easy party chatter and sparkling wine glass holding. This wooden toss game does it all! Plus the spokes look a bit like fabulous rays of sun. It is excatly what the yard needs for parties all summer long.
For the tossing rings we used round crochet handles. The idea of the game is reminiscent of old time fair games. Toss the circle and if it lands on a stick you get a point. Play 3-5 rounds and tally up the points for a winner. To make the game a bit more challenging assign a different value to each color spoke.
The game was really simple to make. We used 15 – 1 x 1/2 inch wooden stakes, and 2 small fence posts that we had cut to size at our local home store. There are 15 spokes on the game varying in size from about 2 ft to 4 ft long.
Once all the wood is cut, pick out a selection of bright colors and paint each of the spokes. We painted the fence posts as well (after the fact). Next time I will do all the painting first – much easier that way!
To create the toss game, nail each of the colorful wooden spokes into the fence posts. Nailing some in front and a couple in the back of each post is what creates the great game depth. Set the toss game on a small table, or directly on the ground for a great way to start any yard party off right.
For all friends waiting their turn, there is always this fun selfie hot potato party game to play. Or you know… Why don't we make watermelon soda? xoxo
(Photography ©A Subtle Revelry by Erin Holland).