This DIY Goldfish snack packs post has been sponsored by Goldfish® Crackers. All thoughts and opinions are my own.
With all the fun school breaks coming up, we are ready to hit the road and travel. Whether you are traveling by car or plane or any way, we all know snacks can make the difference in a trip gone great or one that leaves you still needing a vacation when you get home.
SNACKS ARE LIFE!
When we travel that is soooo true.
When my kids are hungry while traveling and there are no snacks to be found, it gets a little hairy and none of us make the best decisions. That's why I love keeping bags of Goldfish® Crackers on hand. They are sooo perfect for on-the-go snacking, and my kids LOVE them!
That's also why I love these fun DIY travel snack packs that are great to make with the kids and give them a handle on ensuring their favorite snacks are nearby.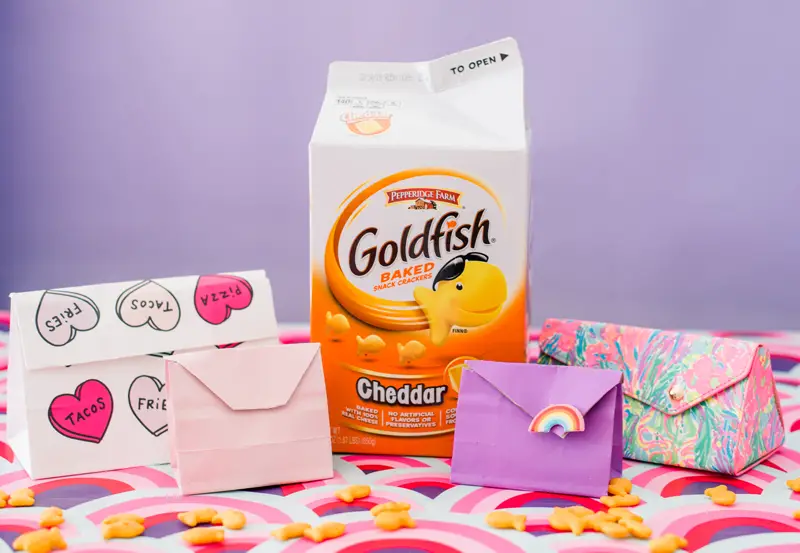 I was super inspired by the upscale clutches I've been seeing all over this year and decided to use my favorite one as inspiration for these paper DIY travel snack bags. I used party favor bags to create them, since pretty ones are easy to find, and doing the project this way makes it so simple that even the kids can help!
I find when I give my kids choices and they help to create what we are doing, it gets them much more excited for what's ahead.
[adthrive-in-post-video-player video-id="GySzgZnT" upload-date="2019-04-25T13:46:36.000Z" name="ASR GF2 V2″ description="DIY Travel Snacks that are easy to travel with"]
DIY Travel Snack Packs
To make the DIY travel snack packs, you will need:
Paper party favor bags in fun colors
Scissors
Stickers
and your favorite snacks (Goldfish for us!) to fill them with
1. Start by creating the bag; you will take off any handles to begin with and decide which side of the bag should be the front.
2. Then, cut a straight line about 2 inches below the top along the front and both sides.
3. Next, open up the bag and fill it with your Goldfish snack of choice. There are so many varieties; this could be an entire conversation alone with allowing the kids to pick their favorite one. The Goldfish Cheddar are one of my favorite travel snacks to grab because they are always baked with real cheese and have no artificial flavors or preservatives! Did you know that? Goldfish are a snack I feel great about bringing along for the trip and having my kids enjoy.
4. Finally, cut inwards on the top flap to make the DIY snack packs look even more stylish and fun.
5. Top it all off with a sticker to close.
These fun DIY snack packs not only ensure that snacks are close at hand while you travel but they also look so great! You won't at all be embarrassed when the kids pull these beauties out of your purse while standing in line for the next plane to arrive.
Happy Travels… happy kids… We'll bring the Goldfish!
(Photography ©A Subtle Revelry by Alyssa Lynne Photography,Video by @MabbleMedia).