Inside: Easy to Make Paper Palm Leaves
Who else is loving the trend of palm leaves, pampas grass, and greenery? I know I am! My obsession with naturals and earthy textiles could *almost* be overboard, almost! There is just one problem. As much as I love having plants scattered throughout my home, I am still working on growing my green thumb. Making it difficult to keep those beautiful green leaves alive for long. Now, I am not totally failing, but it's still a work in progress.
This is why I love these easy-to-make paper palm leaves. They the perfect amount of planty goodness without the worry of dying in a couple of weeks. I have been making these and adding them to vases to create a fun natural vibe.
Recently I helped a friend of mine with a sweet virtual baby shower and we created these paper palm leaves to scatter throughout the balloon garland for that perfect boho theme. It was adorable! (Still sad we didn't take photos, I should totally know better!!)
There are so many ways to use these fun paper fans, and since they are so easy to make you can use them for everything! Okay, okay, enough chit chat, let me show you how to do them yourself.
How to Make Paper Palm Leaves
First, you need to gather up your supplies:
Scrapbook Paper – I suggest using paper that is either colored or printed on both sides.
Scissors
Hot Glue
OPTIONAL: Paper Scorer – This thing is the BOMB! I got this a couple of years ago and love using it for card making and scoring paper. It's not totally necessary for this project but it's helpful.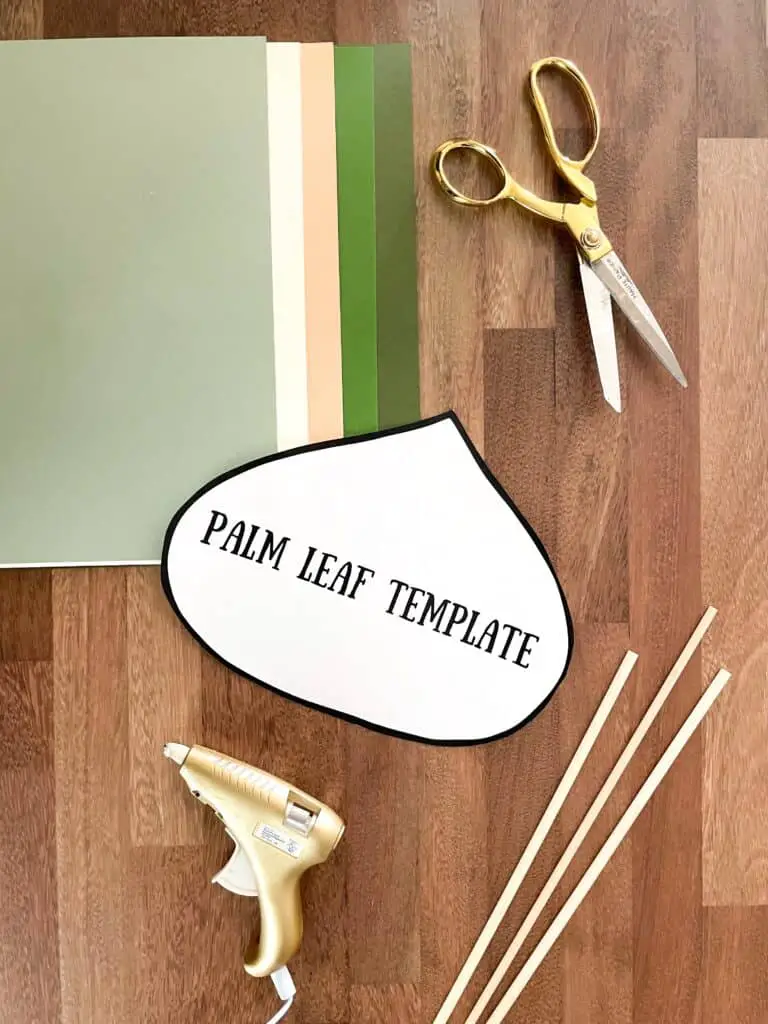 Here are the easy steps to make this fun papercraft:
Start by printing off and cutting out our Paper Palm Leaf Template
Trace the template on your favorite scrapbook paper. I also suggest using thicker paper to help the paper leaf stand straight.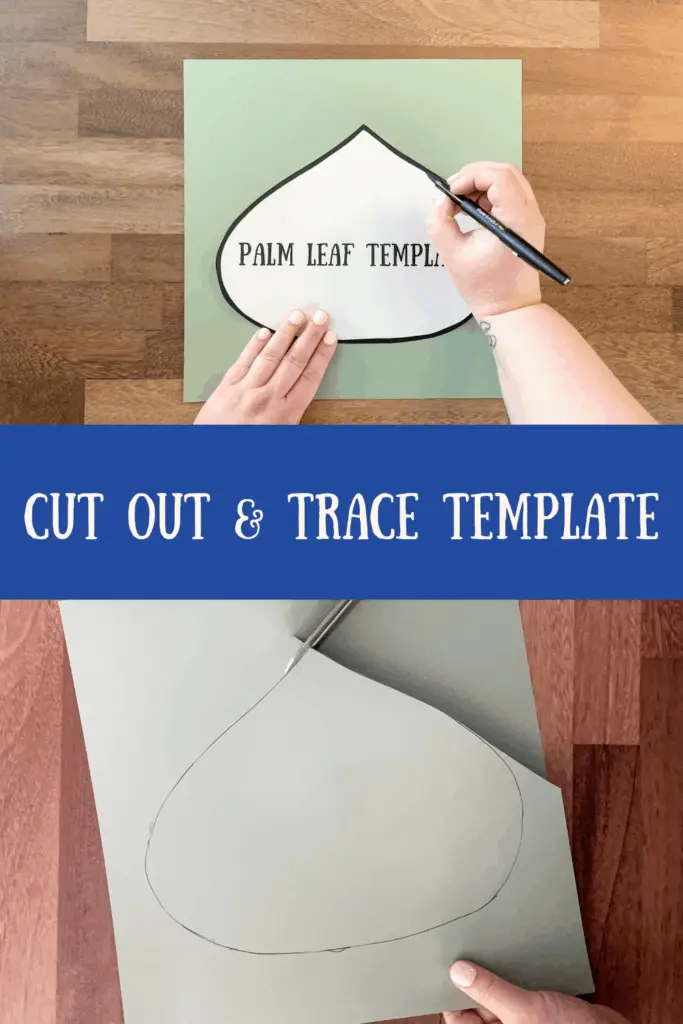 3. Cut out your shape and score lines from the top of the shape to the bottom about .5inch part.
4. Fold your cutout, just like you do to make paper fans, accordion-style.
5. Now use glue or tape to scrunch up the bottom of the leaf and secure it together.
6. Cut slits from the top of the folds to the middle of the leaf. This creates that palm leaf look.
7. Either attach to a stick to put in a vase or use it to decorate a space!
Paper Palm Leaf Printable
Download, print, and use this printable to create all your fun paper fan projects!
Click Here: Palm Leaf Template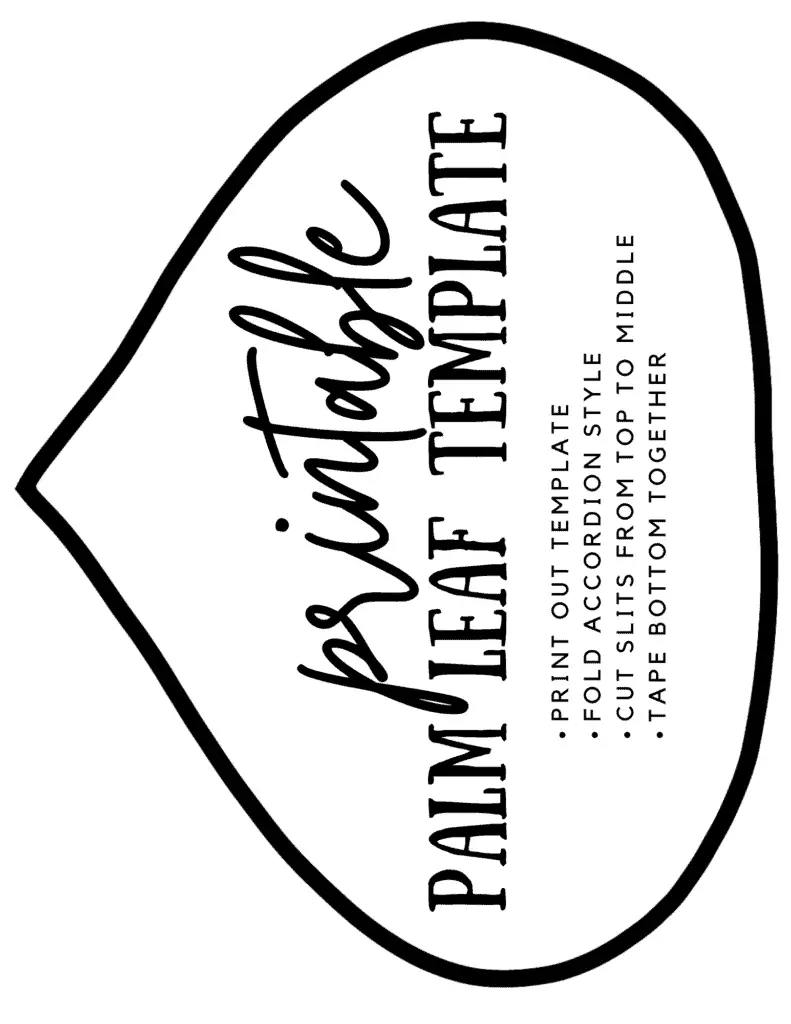 More Paper Palm Leaf Ideas
Like I said earlier there are tons of ways to use these paper palm leaves.
You can attach them to a stick to create fun sprays for a flower arrangement.
Add to a balloon garland for a fun boho look.
Create a paper palm leaf garland by stringing them together.
Embellish a sign or frame.
I also create a few different shapes to give more texture and variety. Simply cut different leaf-like shapes, but still fold and glue like normal, you can create a whole new look.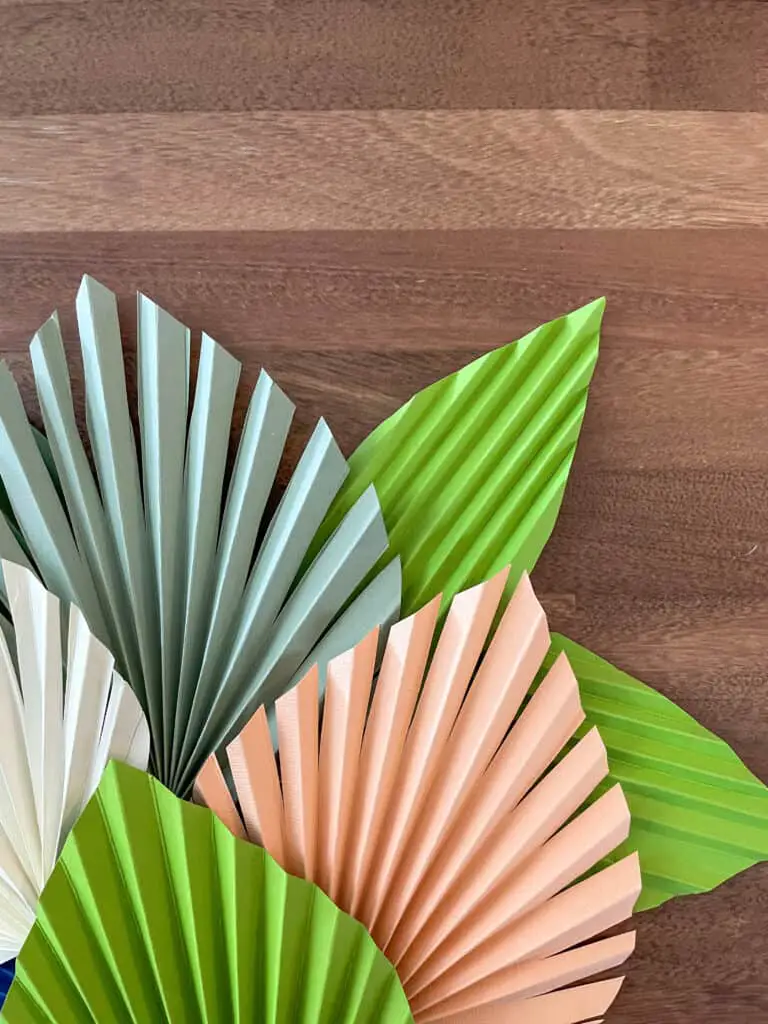 Need More DIY Inspiration?
Easy + Inexpensive Flower Arrangement Ideas: It really is so easy to turn a boring bouquet into a gorgeous flower arrangement. With just a few simple steps you can turn any grocery store flower bunch into an eye-catching floral display! And that means you get to have pretty flowers more often, you save money, and you can impress all your friends with your skills!  We are taking you step by step with the best and easiest flower arrangement ideas that will walk you through creating a show-stopping piece.
Rainbow Paper Chain Garland: Okay, so I have always loved this simple DIY! Most of us remember a traditional paper chain from school, we always used them as a countdown for a break like Christmas break or summer! But now that the kids are out of school for the summer and the world is a little wacky I thought it would be fun to add a little color back into life with this super fun rainbow paper chain garland!
DIY Marble Plates: What better combo to a yummy recipe than some colorful plates to eat off of! See how we made these DIY Marble Plates in a few easy steps!
(Photos @ASubtleRevelry created for us by Whitney Gray)