I am so excited to share these fun balloons. Do you know you can make any average party balloon spectacular with just paint!?!
A couple of years ago, I created a fun these fun two-tone balloons. They were a favorite of mine, but I've always wanted to add a bit more of a graphic punch to them. I asked Sam to recreate the idea with texture and spunk. We looked to Quiet Clementine for pretty inspiration. Oh boy… these have quickly taken the place as my new favorite painted balloons. They are basically a party in themselves. Gah! I'm obsessed.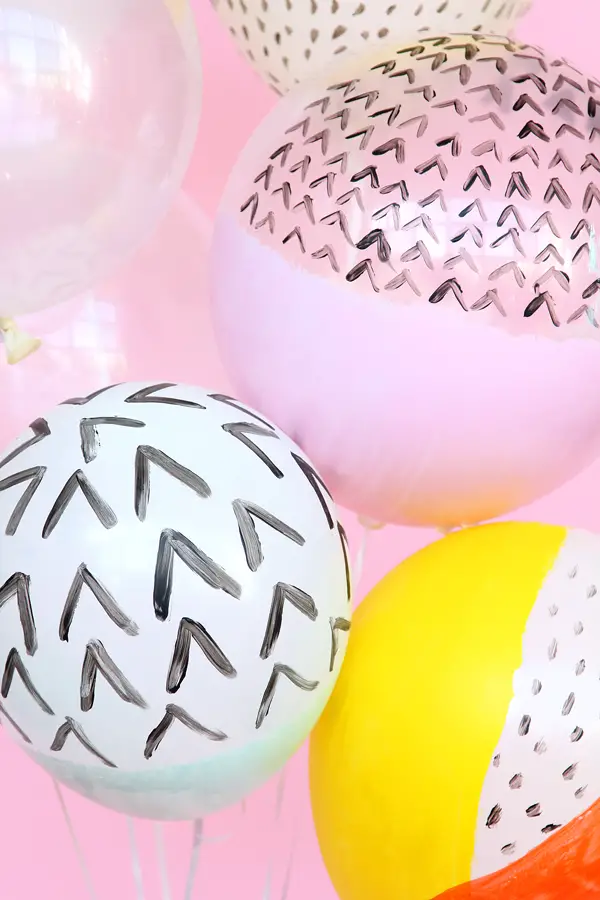 A gussied up, graphic take on party balloons – I'm so excited for how easy these are to create. The balloons will literally make your next party POP. Ha! ;)
To make the graphic painted party balloons you will need:
Acrylic paint
Small and large paintbrushes
9″ balloons in white and clear
Graphic painted party balloons
1. Inflate the balloons. Don't try to paint them and then inflate them after because the paint will fall off. The balloons must be inflated first. Use high float if you can, it will keep the balloons up and floating for much longer.
2. Place a small amount of paint on the paintbrushs and do light strokes to avoid too much paint getting on the balloon. The more paint, the heavier the balloon gets, so be sure to do light coats to keep the balloons afloat.
3. For the larger areas of color, use a larger brush and quickly applied paint to the whole area, making sure to go back and smooth out any areas with too much paint.
4. For the graphic paint sections, use a small brush and make quick graphic strokes. No need for perfection. Arrow heads and dots mixed with colorful paint will give a party balloons exactly the right look.
5. Allow the balloons to dry completely. I taped mine to the ground since they were filled with helium and I didn't want wet paint getting on my ceiling. If they aren't floating anymore right after you paint them, give them some time. They will start to float again as the paint on the balloon dries).
A birthday party in the making!
I've always loved the look of bunches of balloons at a party and with this bunch you won't need much else. The project creates a great impact for very little work or money. Leaving more time & cash for the other important things… like cake!
(Project design + photography ©A Subtle Revelry by Sam Ushiro).