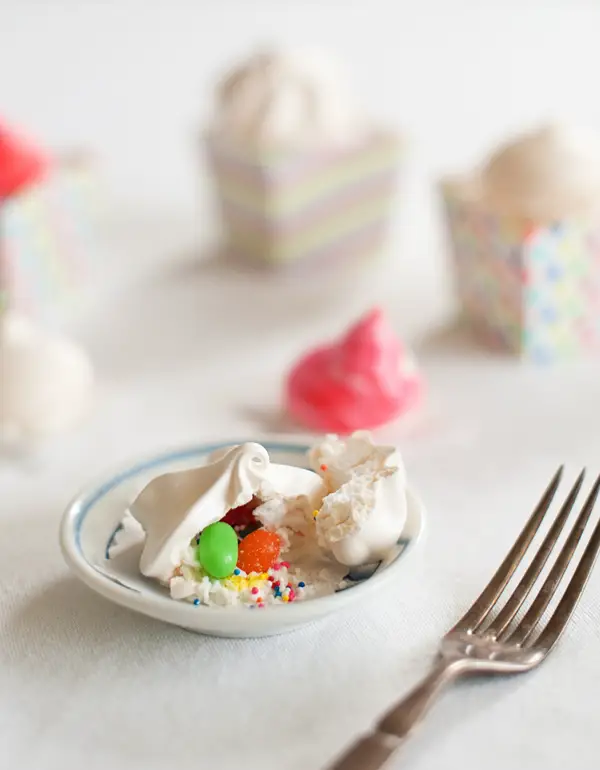 Seeing how much we all loved the pinata cake, I knew there was something to the idea of hiding sweets inside another treat. There's really nothing better than being surprised that your fabulous dessert is actually a surprise party, with a bunch of sweet friends hiding inside! It makes for the best birthday food.
Since making a huge cake is not always in the cards, this year we went small and make cute little meringues stuffed with goodies. They are a fun take on the very traditional sweet. Great for events where plates, and forks, and cake like things would be too much, but you still want festive treats. Showers, birthdays and weddings will be made even sweeter when these little balls of awesome are included.
The pinata meringues are simpler to make than you would guess, just a little bit of work and your guests will think you are a baking genius! To make the sweets; you will need, 1/2 cup egg whites (from about 4 large eggs), 1 cup sugar (preferably superfine sugar, but regular granulated is ok), 1/4 teaspoon cream of tartar or white vinegar (this makes about 30 to 35 meringues).
Before jumping into the recipe you should also have on hand; a toothpick, small knife, tall glass or measuring cup, pastry bag, open star or regular pastry tip, assorted small candies (jelly beans, mini M&Ms, sprinkles), food dye or gel (optional), and frosting.
Start by making the basic meringues: Position two racks to the upper and lower thirds of an oven. Preheat oven to 225F.
Combine room temperature egg whites with cream of tartar in the bowl of a standing mixer with the balloon whisk attached. Beat at medium speed until the mixture is white and creamy, about 5-7 minutes. Mixture will hold a soft shape when the whisk is lifted.
Increase the speed to high and add the sugar a heaping teaspoonful at a time, waiting a few seconds in between additions. Mixture will be glossy and shiny and hold its form when whisk is lifted; you want stiff peaks.
Prepare pastry bag and insert desired tip; for star-shaped meringues, use an open star tip. For round meringues, use a regular large round tip.
For multi-colored meringues (which would be amazing for Valentine's Day), you can dip a toothpick into food dye or gel and create patterns inside the pastry bag. Twist the bag right above the tip and place bag into a tall container or measuring cup. Make a cuff by folding the edges of the bag down.
Use a spatula to scoop meringue mixture into the pastry bag until it is full. Unfold the cuff and press sides of the bag in a downward motion to get the air out. Close the top of the bag by twisting it. You are ready to pipe.
Line a pan with parchment paper and pipe your meringues by holding bag at a 90 degree angle above the pan. One hand is positioned near the tip to support the bag; the other hand is at the upper end of the pastry bag. Gently squeeze the hand positioned at the top of the pastry bag to apply pressure and release mixture from the tip. Pipe slowly and close to the surface of the pan, moving the tip up as soon as you reach the diameter you want your meringues to be; around 1-3/4″ to 2″ across is good. Space meringues about an inch apart.
Repeat piping until pan is full. Start piping meringues onto another pan if necessary.
Place pans in the preheated oven and bake for 1-1/2 to 2 hours. Turn oven off and let meringues cool in the oven.
The next step is stuffing the meringues; do this step over a plate or wax paper as there will be plenty of crumbs.
Take a toothpick and gently prick a hole in the bottom center of a meringue. You can widen the hole more with the toothpick, then switch to a knife to finish coring the center; be careful not to puncture the top or sides of the meringue. Fill the hole with small candies such as jelly beans or mini M&Ms, as well as colored sprinkles and jimmies.
Seal the hole by applying a tablespoon or so of frosting, and place the meringue on a piece of parchment paper (which you can cut with scallop edged scissors to make the presentation even prettier).
When guests bite into these, they'll not only enjoy the crunchy, marshmallow-tasting meringue, but also find extra sweet treats tucked inside. Party win!
Photography and styling by Athena Plichta. Creative direction by Victoria Hudgins for A Subtle Revelry.