In case you didn't already know, I've got the best 10-year-olds in the whole wide world. ;) And the older they get, the more fun it is to throw them birthday parties. Something about this age is just my favorite. Since I have boy/girl twins we considered all the 10-year-old birthday party ideas possible when planning their parties last month. Here is a round-up of all the best party themes we found and photos of the parties we threw this year.
Before we dive into different ideas for your 10-year-old's party, check out this Amazon listing for all your party supply needs.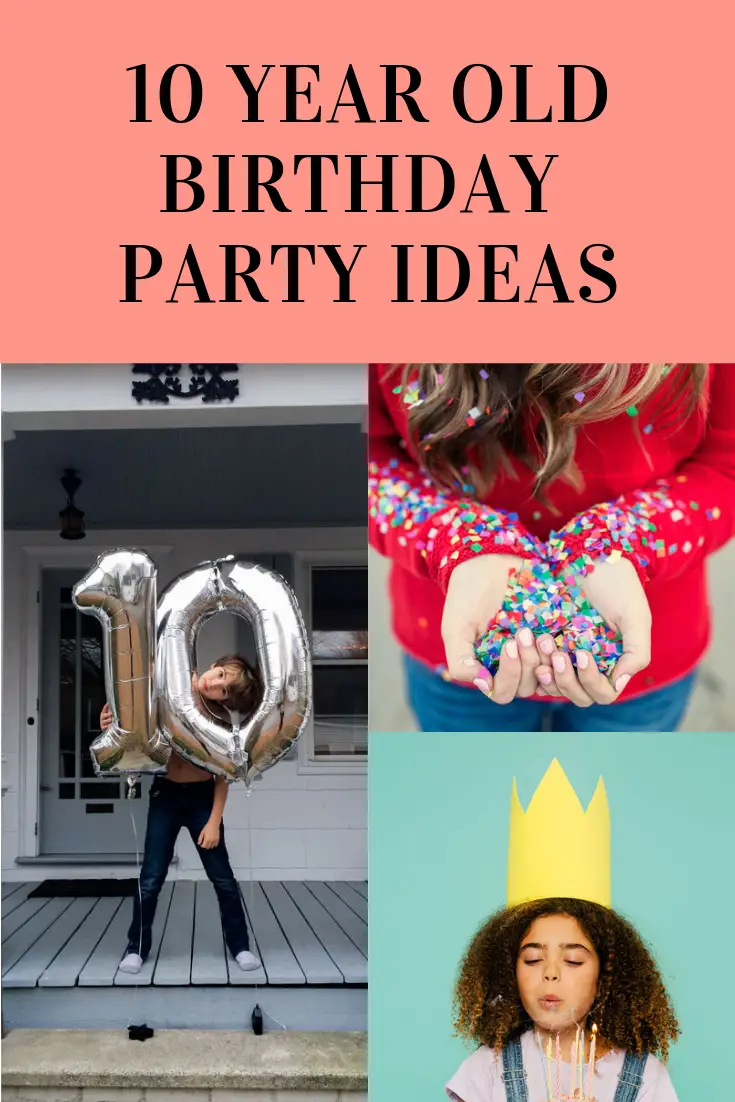 I have some awesome ideas for throwing a birthday bash just for boys, perfect party themes for girls, 10-year-old birthday party ideas at home, and creative ways to do a 10-year-olds birthday party in the winter. Birthdays are just so much fun and by far one of my most favorite celebrations!
10 Year Old Birthday Party Ideas For Boys
Boys can be challenging to throw birthday parties for at this age. They want to have fun, but it's hard to contain all that energy when a group of them gets together. These ideas are perfect for letting them go a little wild and have a whole lot of fun.
Backyard Camping
Pitch some tents in the grass, BBQ s' mores outside, and tell ghost stories under the stars for a birthday party that's sure to excite any 10-year-old boy! This party is so easy to set up by having each guest bring their own sleeping bag, pillow, and a flashlight.
Nerf War
What dude doesn't love a good nerf gun war? Pick up a bunch of nerf guns at the store, enough for each party guest (and probably one for yourself too, because it's just too fun not to play along!). Set up obstacles either outside or in an open room in the house or at a party space for players to duck behind and dodge while trying to attack their opponents with nerf darts!
This might be one of my favorite 10-year-old birthday party ideas of all time and one we will be saving for use next year as well.
Fear Factor
Remember that show where the contestants ate all sorts of crazy things and had to perform a variety of gnarly dares? Well, for all you brave boy mamas out there, a Fear Factor party brings the gameshow to reality!
Gather up your dude and his pals for a challenge like they've never seen before. This party works best in a large space where there's plenty of room to set up the stunts. DIY stunt stations of your choosing; some of my favorites are like a lego walk (ouch!), lemon eating (sour!), and ice plunge (brr!)…obviously keeping it safe while still daring the kids to step just a little out of their comfort zone.
Go-Karts
Every kid can't wait 'til the day they turn 16 and can finally drive a car. In the meantime, go-karts are an awesome way to let the guys get out on the road for a friendly race! There are lots of different go-kart parks to choose from, both indoor and outdoor. Lots of them have party spaces too for a perfect all-in-one option!
Rock Climbing
Race to the top or see who can climb the most challenging layout. Either way, this is a great party idea for getting some energy out of those wild and crazy 10-year-old boys!
Laser Tag
A birthday party classic, laser tag has always been a favorite of my own 10-year-old boy. And this is actually what we did to celebrate his birthday this year! I love how simple it was to plan, and I even got in there and played a couple of games myself. ;) I loved how crazy easy the 10-year-old birthday party ideas are when you host it outside the house! No prep or cleanup and the kids had a great time.
Trampoline
Trampoline parks today are no joke. With obstacles, basketball hoops, dodgeball courts, foam pits, monkey bars, slides, and more, they provide hours of fun for a birthday party that'll top them all. Most parks do birthday party packages, or if you want to do more on your own, there are lots of fun games to play on a trampoline at home. Some all-time favorites: popcorn, sparring (wearing protective gear of course), and trick contests.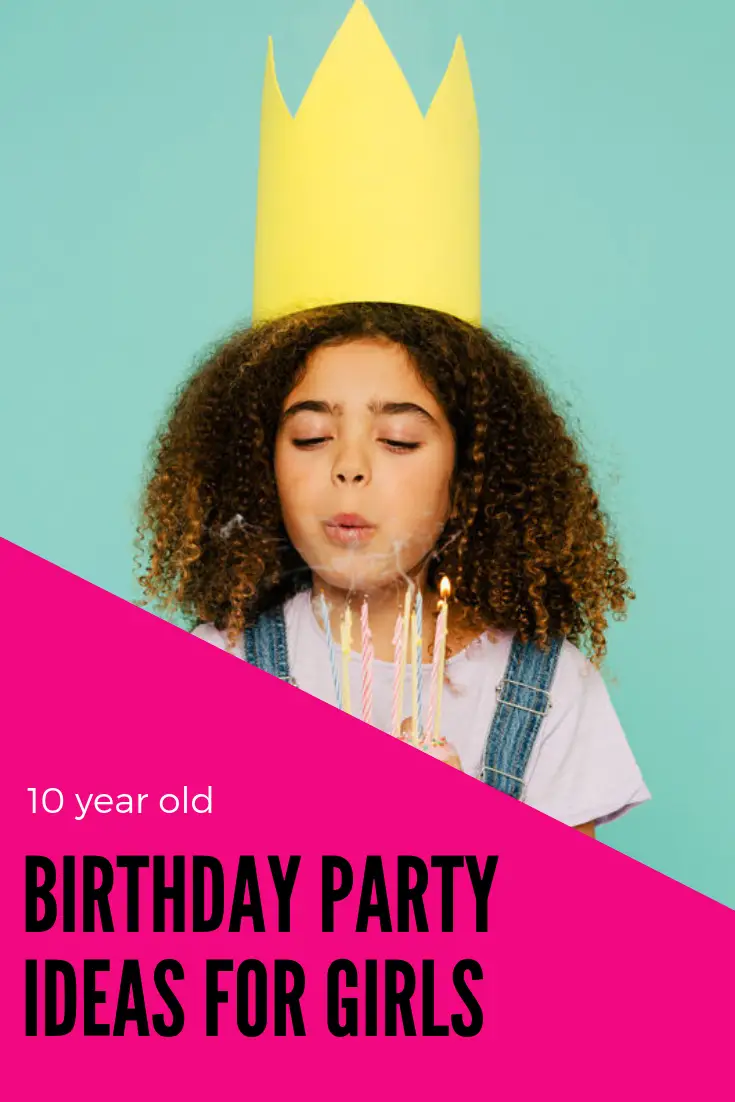 10-year-old girl birthday party ideas
Tea Party
Throw a high tea party for your birthday princess complete with pretty china, dainty finger foods, and flavorful teas. Instead of (or in addition to!) a birthday cake, the girls can decorate mini tea cookies and place them into little boxes to take home as party favors. Have the guests wear their fanciest dresses and finest jewels just for fun on this special occasion.
Cupcake War
Just like the show, create a cupcake showdown of her very own, seeing who can beat the clock to make the tastiest treats! Award each baker a different prize, judging the cupcakes based on taste, decoration, and creativity.
This would work well if you've got a sizable kitchen at home with a couple of ovens, otherwise, you can probably locate an industrial kitchen for rent. Lots of these offer parties too! If your 10-year-old gal has a bit of a sweet tooth, this is the perfect party idea for her.
Hotel Sleepover
Who doesn't love to spend a night away in a posh hotel? There are so many fun ways you could take this one of my 10-year-old birthday ideas. Let your birthday girl pick a few of her closest friends to invite to the ultimate hotel sleepover. Stock the room with special snacks, favorite movies, and fun games to keep the girls busy all night long!
Plus, this is a great excuse for you to get an adjoining room and have a "relaxing" night away from home too ;)
Fashion Show
The mall is a great place to throw a birthday party, particularly at the birthday girl's favorite store. Set up a big dressing room area with balloons, snacks, and gifts and get the party going with a little fashion show! Let each of the girls model their favorite outfits, and gift the birthday girl with her favorite pieces.
Mani/Pedi
I love taking my girl to get her nails done now that she's a bit older. It's so fun to see what color she'll pick. I think she'd really enjoy getting pampered alongside her besties, so a mani/Pedi party sounds like a great idea to me. Definitely call and make appointments…and give the staff fair warning that they're about to have a shop full of 10-year-old girls with all the giggles :)
Horseback Riding
If you live near a stable or equestrian center, this is such a unique idea for a birthday party! Whether your girl is a first-timer or a seasoned pro, a horse ride is a great time to get outside and try something different. Gather up a picnic lunch to enjoy post-ride and maybe a couple of carrots to treat the ponies too.
Makeover Sleepover
Girls of all ages enjoy a good makeover, and a sleepover party is the icing on the cake. Start the night with nail painting, have the girls apply each other's makeup and do each other's hair, then take pretty pictures. End the evening with face masks and a sugar scrub before beauty sleep!
Birthday party ideas for celebrating 10 year old at home
Hosting parties at home is always fun. Although they take a little more planning I love the added benefit of having control over the entire event. You can start and end whenever you want and never have to deal with another loud party messing with the vibe.
Magic Show
Celebrate your 10-year-old with an at-home magic show! Hire a magician to come to your house and put on a special birthday performance. You can decorate in black, white, and red with top hats, rabbits, and playing cards. Everyone will be entertained and enchanted.
Craft Party
Does your birthday kiddo love to craft and DIY? Boys and girls alike will love a craft party. You can do something manly, like a wood building project for the boys. Ideas include a birdhouse, small shelf, or picture frame…really anything that uses real tools.
And for the girls, the possibilities are endless! Some of my current favorites are rope rugs, fuzzy sandals, and unicorn slime. The best part, the kids get to take their crafts home after the party.
Dance Party
Bring the dance floor to the kitchen/living room/garage/basement floor for a fun party theme at any time of year! You can go disco-themed, rock-n-roll, or even hire a professional DJ. Pick the birthday boy/girl's favorite songs plus some top hits to create the ultimate playlist. Serve food and drinks to match the occasion, like hard rock candy, a pop star soda bar, and microphone cake pops.
Cooking Class
Have a mini chef on your hands? A cooking class is a great way to celebrate the 10th birthday of the foodie at heart. There are lots of different venues that offer cooking classes, from small restaurants to cooking schools. Call ahead to be sure they'll do a big group of 10-year-olds, but most should be more than willing!
Water Park
Set up a water park at home with inflatable pools, a slip-n-slide, pool floats, play sprinklers, water guns, and water balloons galore. The only other thing you'll need is some sunshine and you're set for a good time. This is one of my favorite 10-year-old birthday party ideas for summer… now I just need to add some summer babies to the mix.
Scavenger Hunt
Hide little prizes throughout the house, and in the yard, if the weather's nice. Then create clues to match. Split the party guests into two different teams and send them off on a scavenger hunt! The final prize can be a piñata for everyone to crush, some creative and exciting party favors, or a delicious and decadent birthday cake!
Game Night
There's lots of ways to do game night, and they are all just so much fun! From board games to a minute to win it to group games like Pictionary and charades, there's really no going wrong. Pick out the birthday boy/girl's favorites and invite over some friends who are up for a night of serious play.
10-year-old birthday party themes in winter
With my kids' parties falling just weeks before Christmas, we know the stress of needing 10-year-old birthday party ideas for winter! We have snow on the ground on their birthdays more years than not, so finding fun options that keep the chill off the kids is super important. Here are a few favorite ideas for partying even on the coldest days.
Indoor Pool
Bring back summer with an indoor pool party! Recreation centers and indoor water parks are typically open year-round, providing the perfect venue for a 10-year-old birthday pool party. Serve up summery food like tropical fruit salad, mini sliders, and popsicles, and add a festive touch to cold fizzy drinks with crazy straws! Hand out colorful sunglasses as party favors for something the kids will love.
Paint Party
Canvas or pottery? The choice is up to the birthday guy/gal! Either way, a paint party is a sure-fire way to bring out the creative side no matter what the season. Partygoers will get to take home their custom creations too!
Movie Theater
Every kid loves a trip to the movies. Make a party out of it by renting a room, bringing in a special cake plus treats to share during the movie. It would also be fun to use themed decorations to match the movie, or even play a big group game after the showing.
Roller rink 10-year-old birthday party idea
10-year-olds have all the energy, and what better way to work some of it out than doing lap after lap around the roller rink? It's especially fun when they can pick between blades or old school skates, and dress up accordingly. This is what we did for my girlies birthday this year and it was a blast. I bought each of the girls matching socks (grab our fun rainbow ones right here) and they had so much fun skating the freezing cold afternoon away.
Theme the party with 80s decor for the girls and encourage them to wear their best neon get-up or go for a "skate park" theme for the guys and have them all wear their most radical skater gear. Pizza, popcorn, cotton candy, and nachos are a must!
Bowling & Arcade
Bowling is fun no matter what the age, but 10-year-olds are just big enough to enjoy a full game and engage in some friendly competition. Split up the gang into two teams and see which can get the highest score. End the party with an arcade card for each kid, letting them each pick out a prize from their winnings to take home!
Ice Skating
Ice skating is the perfect winter activity to add to our 10-year-old birthday party ideas list. Most towns have outdoor ice rinks which make for a beautiful birthday party spot, particularly in the late afternoon when the sun is starting to go down and the rink gets all lit up with pretty twinkly lights. Not that the 10-year-olds would be all too concerned about the ambiance, but it'd make for great photos! If an indoor rink is the only option near you, that's great too! Won't have to worry about snow sprinkling down on the parade ;)
Sledding/Ice Blocking
If you live somewhere with snow, a sledding party would be so much fun! Set up before the guests arrive by building a big snowy jump at the base of the hill. Pack plenty of sleds and encourage the kids to dress warmly in snowsuits, hats, gloves, and boots. Do a hot cocoa bar complete with all the yummy toppings for a cozy treat. If you don't live in a winter wonderland, grab some big blocks of ice at the convenience store. Let the kids hop on top and ride them down a grassy hill. I promise it's just as fun as the real deal! This post tells you exactly how to host a sledding party.
If this list doesn't make you want to turn 10 all over again, then I don't know what will! Honestly, I wish I could go back and throw another set of parties from this list of 10-year-old birthday party ideas for my twins… but at least there's always 11 to look forward to. ;)
Which were your favorite ideas from this list? Any amazing ideas to add?
Now that you have some party ideas, don't forget to order your party supplies at Dollar Tree.
(Photography credits my kid's parties shot from my iPhone. Other photos Cara Dolan, Carolyn Lagattuta, BONNINSTUDIO / Stocksy United).