Can you believe it is time to start thinking about advent already!?! In just a couple weeks the season will begin and the countdown will be on. These festive tree boxes are a fun way to hide a collection of toys and treats for counting down the days.
The graphic tree boxes would also make great favors for a holiday party, and simple wrapping ideas for small presents to be gifted. Although, a collection of the tress together for counting down advent is a fantastic way to make a whimsical fairytale forest show up at home this holiday season.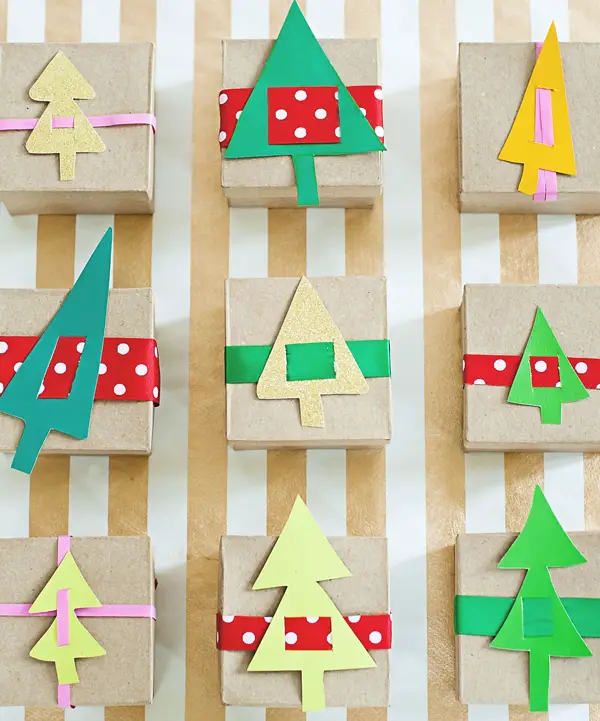 To make the paper tree advent calendar you'll need; various shades of green paper – with a little yellow and metallic thrown in for good measure, a collection of small Kraft boxes, scissors, an exacto knife, festive ribbon, and treats to fill the boxes with.
Start by drawing and cutting out your trees. We found the more exaggerative and imaginative the better! The trees definitely do not need to be perfect, in fact having the kids help with this step could make the project extra fun. Aim for the trees to be a little larger than your boxes and every tree to be just a smidge different.
Once the trees are cut, use an exacto knife to put 2 slits in the sides of the trees for the ribbon to run through.
Fill the boxes with small toys and treats for the kids. Make a countdown calendar for grown-ups by filling the boxes with coffee cards, and rich dark chocolates. Once the boxes are filled run the ribbon through the sides of each tree and secure to the bottom of the boxes with tape.
Stack the boxes, or set them on a mantel/table standing up for a festive holiday display that everyone will be excited to open. An optional addition is to put numbers on each of the boxes, although I prefer a pick one you love everyday style. The countdown will come with how many of the festive trees are left standing in the forest.
I had fun looking for simple sweets like candy dots and a collection of toys that could be broken up, like these puppets to fill our advent calendar with this year. What are your favorite toys and treats to count down the season with?
PS. Advent calendar for grandparents counting down a visit!
(Photography © A Subtle Revelry by Erin Holland)