It's finally warm enough to pot our spring herbs. Last year I fell in love with the taste of herbs and sweets together. Rosemary ice cream… Thyme cookies… and now I am so excited about these herb infused miniature cakes.
They look really pretty and the taste of herbs + sweets is wonderfully fresh for the season. The cakes are great for simple spring birthdays and no-fuss brunches. You don't need to add much, the natural element of freshly picked herbs and a simple candle is all that's needed to bring the garden party vibe right into a birthday cake.
To make the herb infused cakes you will need; lemon cake mix, your choice of herbs, cut, rinsed and dried (we used rosemary, sage, lavender), 2 cups heavy cream, chilled, 1/2 cup sugar, 1 teaspoon vanilla extract, and gel food coloring.
Herb infused birthday cakes
Start by preheating the oven to 350F. Line miniature cake pans with parchment paper cut to fit inside the pan; spray interior with baking spray. Repeat with other pans if you have them; if not, re-use the pan to bake multiple layers.
Alternatively, prepare a rimmed baking sheet: line with parchment paper and lightly spray with baking spray. When the cake is done, cut out the individual mini cakes by using the 6″ pan to outline the shape on the cake.
Mix the lemon cake batter (or use your favorite cake recipe). Mince about 1/4 cup of your favorite herbs to add to the cake batter, mix in until blended. Pour the batter into prepared cake pans, filling them just under half way down the pan (about 130 grams if you use a scale to measure).
Bake for 15 to 17 minutes; test doneness with a toothpick. Remove from oven and let cool for 10 minutes in pan. Remove cake and place on wire rack to cool. Repeat baking step with the remaining batter; you should have enough to make a total of 6 mini cakes. After all layers have cooled, remove any domes on cakes with a knife to make the tops level and flat.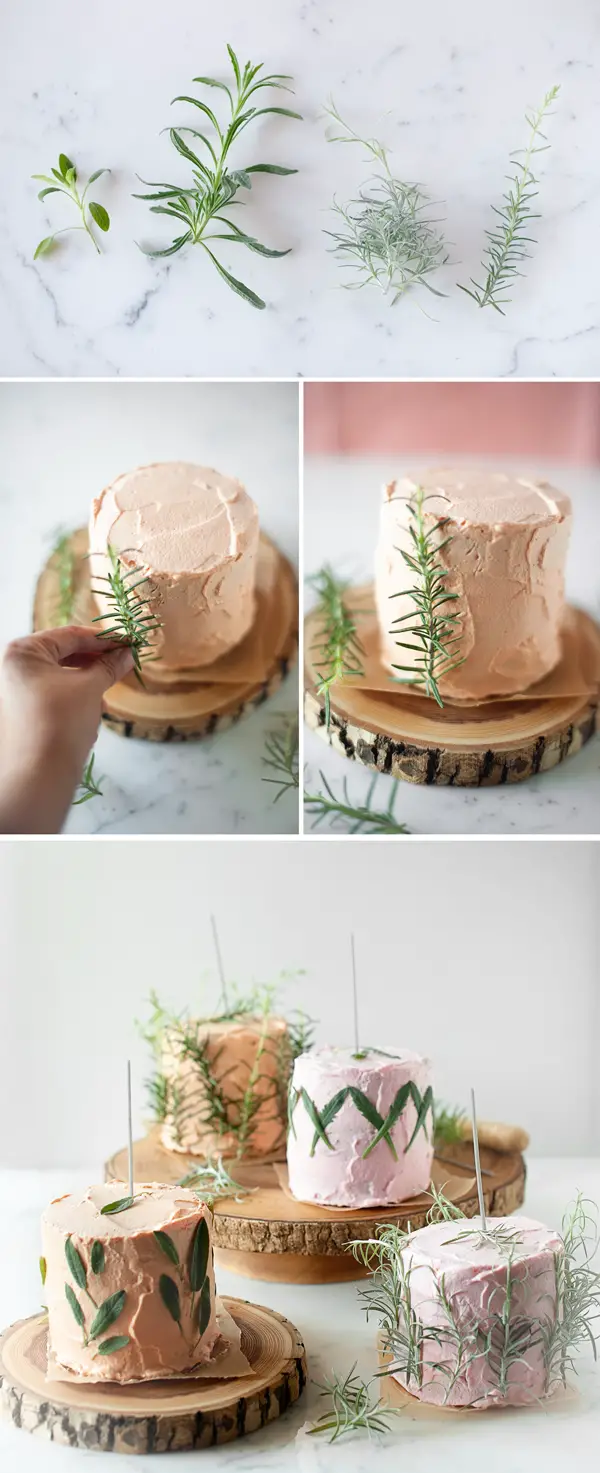 Make the whipped cream frosting: place the heavy cream, sugar, and vanilla in the bowl of a stand mixer fitted with the balloon whisk. Turn to medium high and whip the cream until soft peaks form, about 10 minutes. Mix the whip cream frosting until it is stiff enough to spread.
To create pink colored frosting, add 2-3 drops of red food coloring to about 2 cups of whipped cream. Mix well with a spoon until color is uniform throughout.
To create peach colored frosting, add 6 drops of red and 8 drops of yellow food coloring to about 2 cups of whipped cream. Mix well with a spoon until color is uniform throughout.
Frost the miniature cakes. Place bottom cake layer on parchment or board, and frost. Place second layer on top, frost. Place top layer, frost top and sides of the entire cake. This is your crumb coat. Place cake in fridge to chill for 15 minutes. Remove and apply final layer of frosting.
Decorate the miniature cakes with herbs. Be creative, using individual leaves to make patterns, or whole sprigs to loosely cover the outside of the cake. Gently press herbs like sprigs of rosemary into the side of the cake to adhere to frosting.
(Photography © A Subtle Revelry by Athena Plichta).