Inside: A fun rainbow paper chain garland, perfect for a summer picnic!
Okay, so I have always loved this simple DIY! Most of us remember a traditional paper chain from school, we always used them as a countdown for a break like Christmas break or summer! But now that the kids are out of school for the summer and the world is a little wacky I thought it would be fun to add a little color back into life with this super fun rainbow paper chain garland!
What I love about Paper Chain Garlands!
There are so many reasons I love making these paper chain garlands. First, they are SO easy to make. All the kiddos can help make this DIY, no matter their age. I also love how that brighten up any space to make it a little more fun. Here are a few of my favorite ways to use a paper chain garland!
Countdown: The most traditional way, and the way we know them best is counting down to a big event!
Party: Decorating for a party is another great way to use this colorful garland. You can string it across a mantel, hand in a doorway, or drape with the balloons!
Tailgate Party: We decorated the back of our car with this fun garland to spruce up our picnic! It was a fun way to get outside, enjoy the fresh air, and let the kiddos have a little fun!
How to Make a Paper Chain Garland
Like I said before, with the world a little wacky, finding a little piece of fun can be such a gem! That is why we decided to create our own little rainbow fun with this paper chain garland! These instructions couldn't be any simpler but let me tell you how!
Supplies
Colorful Paper
Paper Cutter or Scissors
Double-Sided Tape
Instructions
Start by cutting strips of papers. I used 2in strips but you can literally do any width.
Make your first chain by using your double-sided tape to connect each end.
Add another link by feeding your strip through the completed chain and repeating the step of taping the ends together.
Repeat this till you get your desired length of paper chain garland!
Creating a Fun Tailgate Picnic
As you can see we created a fun tailgate picnic with our paper chain garland! It was such a great way to get outside and have a little fun together. Because we had so much fun, I wanted to share a few of my favorite things for a tailgate picnic!
First, you will want to pack the back of our car full of comfy blankets and pillows! The more the better!
Snacks. Snacks. Snacks. We popped some popcorn and grabbed a few cupcakes and had a delicious time!
Add a little fun! We added our little bit of fun with the cute paper chain garland! When attaching to our car we used these super handy clips and they worked PERFECTLY!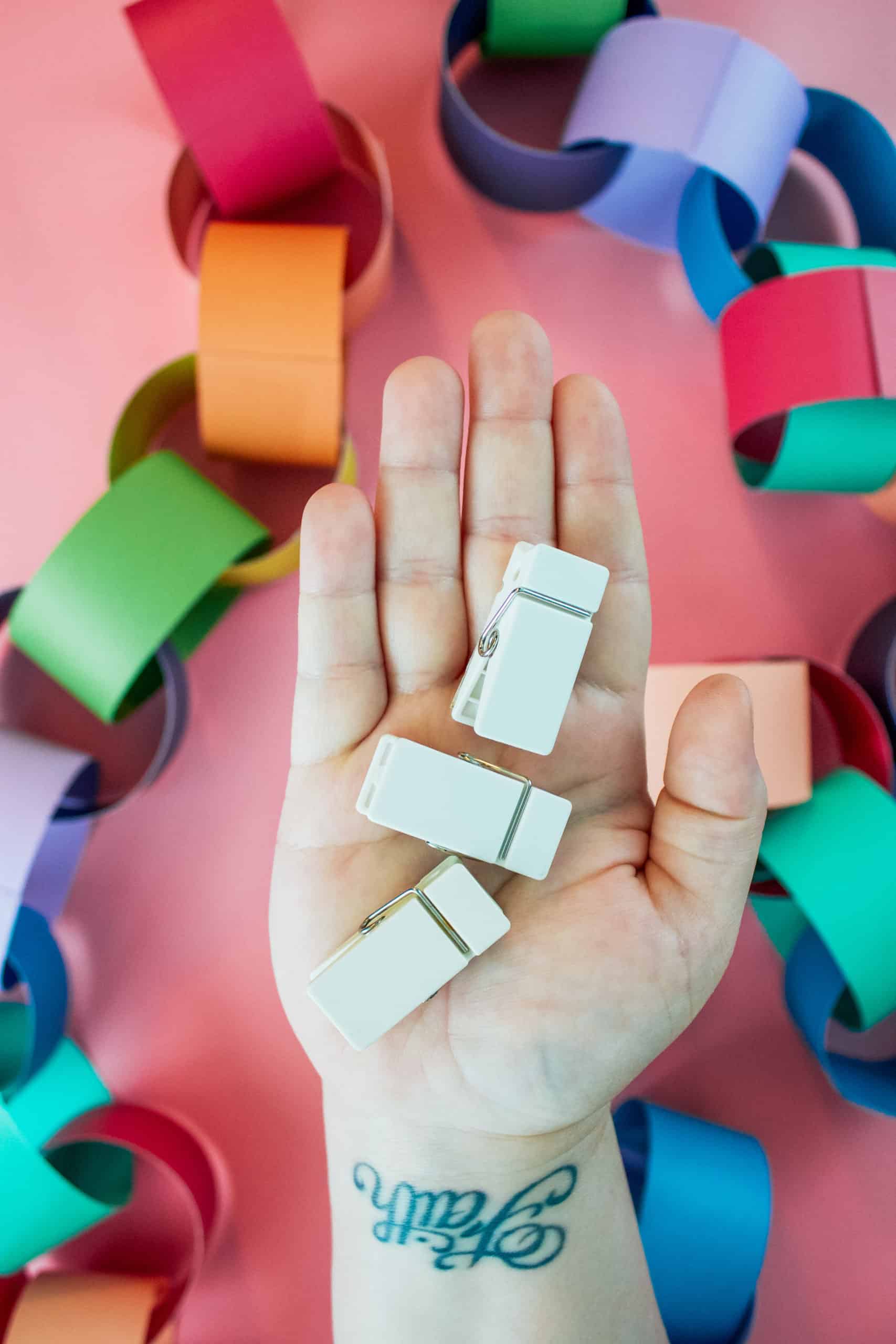 More Fun DIYs You'll Enjoy
So grab the kids and some colorful paper and have a blast making these paper chain garlands!
(Photos and Video @ASubtleRevelry created for us by Whitney Gray)