We contemplated putting up a tree with all the trimming this year, then we remembered how quickly four little hands would tear it down. Instead, I made this perfect little chalkboard Christmas trees, stuck it under the mantel, next to the cookies and it quickly became the perfect family tradition!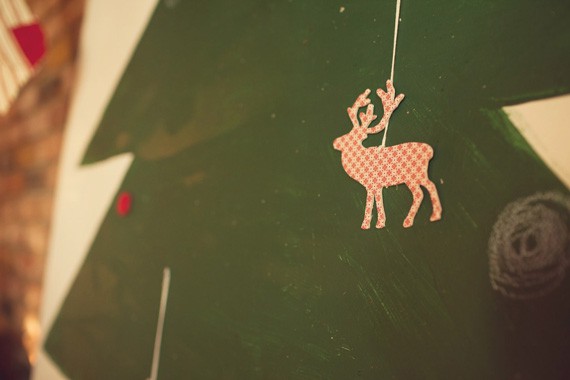 To create this chalkboard Christmas tree you will need
A piece of wood
Chalkboard Paint
Paint Brush
Chalk and stick on ornaments
To create this Chalkboard Christmas Tree you need too
First, you will want to give your piece of wood a good first coat of any color that matches your Christmas decor. One that dries freehand an outline of a Christmas tree. Paint the tree with chalkboard paint, and let dry. Use chalk, stickers, felt ornaments to decorate the tree however you like!
I keep a small bowl of chalk and ornaments nearby and we decorate the chalkboard Christmas tree whenever the mood strikes. Afterward, I simply wipe down the tree with a wet towel, leaving us with a blank tree to decorate!
Photography by Carly Taylor
PS. Psst… More of our holiday home here, and some cookies, and a moose!