Some would say pumpkin season is coming to a close…but, we completely disagree! We can think of lots of idea for leftover pumpkins after Halloween, from recipes to decor, that'll keep them around long after fall has turned to winter. So cheer up, buttercup! Even through Halloween is tomorrow, these pumpkins are here to stay. :)
Here are 8 fun ideas for leftover pumpkins.
Create a Thanksgiving Menu! This idea comes to life in a couple easy steps:
1. Paint the pumpkin with chalkboard paint.
2. Write out the dishes you're serving up for Thanksgiving dinner directly onto the pumpkin with chalk! So easy and such a fun and fresh way to display the day's delights.
Homemade Pumpkin Butter uses the real deal and you can definitely tell the difference in every sweet and spicy spoonful. We're tempted to spread some onto just about everything…and we aren't scared to share the secret!
Grab your girls, the newest chick flick, and this DIY Pumpkin Face Mask for a fun fall-inspired night in.
If you've already carved your pumpkins, this Pumpkin Toss idea is just for you! Or, you can start with whole pumpkins too. Carve big wholes in different sized pumpkins, paint point values on each, and see who can rack up the most points with a bean bag toss!
While pumpkin sweet treats are always a must for the fall, we think this Fresh Pumpkin Soup is the perfect savory counterpart. Curl up under a soft blanket with a big, warm bowl of this pumpkin-y goodness for a delicious fall meal that won't have you missing the sugar one bit!
Set a pretty table this Thanksgiving by adding some glitter to those leftover pumpkins and then filling them with votive candles. These DIY Pumpkin Candle Holders are simply to make using regular or styrofoam pumpkins, your pick!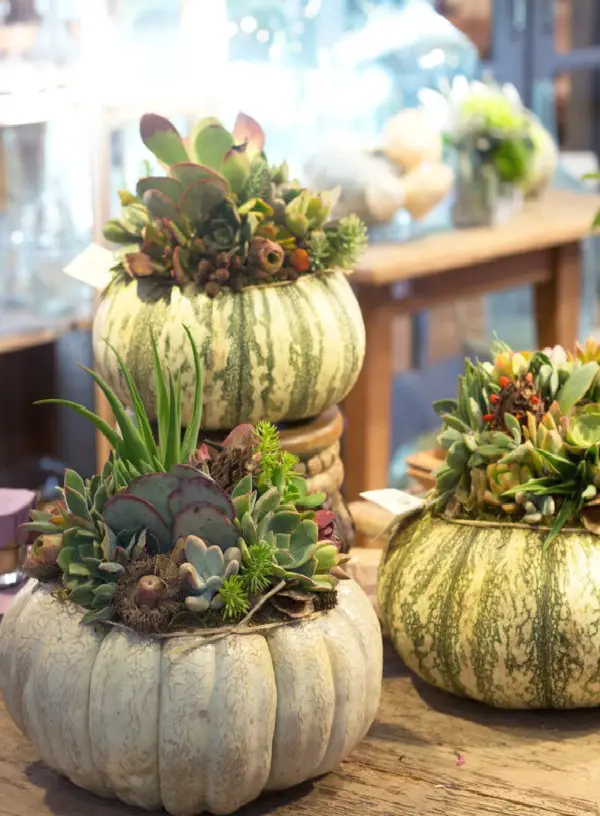 I am all about the succulent craze, aren't you?! These cute little guys are just so easy to care for and beyond cute; we can't get enough! Plant some in a pumpkin and you've got yourself an adorable Pumpkin Succulent Centerpiece for any fall gathering. We won't hold it against you if decide to keep them around well beyond the fall season…we already plan to :)
If you've got a good amount of patience and aren't afraid to try something new, maybe you should test out this Pumpkin Ale recipe for us! We're certainly not brewmasters, although we do enjoy a good craft beer here and there, but this recipe is convincing us otherwise. We may just have to hop on the brewing bandwagon and get a batch going in time for next fall!
Ok, this is about to get real basic. But we can't deny the huge impact the PSL has had on the celebration of fall. If you'd like to learn how to make your own at home, with fresh pumpkin, listen up! This Pumpkin Spice Latte recipe calls for pureed pumpkin…yes, you can get it from the store in a can. But, if you've already got pumpkins at home, take it to the next level, and whip up your own puree too! If you're skipping the coffee date, you've got the time, right? ;)
Can't imagine your life without these sweet lil' pumpkins? There's only one way to keep 'em…plant 'em! That's right, you can keep the seeds from your pumpkins and plant them to grow new pumpkins just in time for next year's harvest. Read all about Growing Pumpkins and then get to creating your very own garden!
And I know Halloween isn't even over yet, but sometimes a holiday idea is so great we just have to jump in early! This final idea for leftover pumpkins, is to use them as Christmas decor! When left uncarved pumpkins stay good for so long, it's perfect excuse to use ours across all the holidays. These Christmas Caroling Pumpkins are just way too cute!
What's your favorite way to use a leftover pumpkin? Does your family have a tradition you keep every year? We're so excited to keep celebrating all of the holidays with pumpkins this year.
PS. Baking a cake inside a pumpkin, pumpkin ice cream and a pumpkin bourbon slushie.