There are lots of fun things for kids, tweens, and teens to do at sleepovers for the perfect experience.
Snack, dinner, and breakfast choices for sleepovers are vast, as are the activities that make the event memorable. Ensure that you prepare enough food and snacks for all the kids, and organize games that everyone will enjoy.
Fun Sleepover Ideas for Kids
These are the most fun sleepover ideas for kids aged seven to nine:
1. Play Two Truths and a Lie
All the participants sit in a circle. The participant who volunteers to go first sits in the middle of the circle and tells the group three statements about themself.
Two of the statements should be true and one a lie. All should sound realistic so that it's hard to know which is the lie. The others take turns guessing which statement is the lie.
Whoever guesses correctly goes next.
2. Hold a Karaoke Competition
Print lyric sheets with some favorite kids' songs and set up a karaoke machine. Alternatively, you could use YouTube, or any of several other dedicated services, to sing karaoke. 
Turn this activity into a competition by encouraging the kids to see who can sing the loudest or who can finish a whole song without making mistakes.
3. Make Flavored Popcorn
Make a giant bag of popcorn in advance and give each kid their own small bowl. Prepare a variety of different coatings in small dishes for the children to decorate their popcorn with, like mixed salt and sugar, colored sugar, assorted spices, melted chocolate, and salted caramel.
Also prepare a few bowls of interesting things to mix with the popcorn, like nuts, raisins, bacon bits, trail mix, and grated cheese.
4. Decorate Pillowcases
Give each child a plain white pillowcase. If you're on a tight budget, ask parents to send a plain-colored pillowcase with their kids. Prepare an assortment of fabric markers in different colors and let the kids go wild with their imaginations.
The children's decorated pillowcases will make a lovely memento for them to take home.
5. Make Personal Pizzas
Prepare a stack of mini pizza crusts in advance. Preheat your oven, and set out bowls of assorted pizza toppings.
Let the kids have fun choosing their toppings and assembling their pizzas for you to pop into the hot oven.
6. Decorate Cupcakes
Prepare a big batch of cupcakes in advance. Set out an assortment of colored frostings, sprinkles, and toppings.
Include toppings like chocolate chips, candies, sprinkles, shredded coconut, chopped dried fruit, and chopped nuts (make sure nobody has a nut allergy).
7. Morning Clean-Up Competition
Encourage the kids to help clean up after the sleepover by making clean-up a fun activity.
Just before the children's parents arrive, give each child a bag and let them clean up all the garbage.
The kid who picks up the most trash gets a prize.
Fun Sleepover Ideas for Tweens
Tweens aged 10 to 12 love activities that let them exercise their independence. Here are some of the most fun sleepover ideas for tweens:
8. Make a Music Video
Set up a music system with a playlist of popular songs. Let each tween choose a song to sing in a video. Two or three friends can also practice as a group and make a video together.
Give each preteen one or two practice attempts before filming. Make the videos to send to the tweens later by uploading and sending via email.
9. Put on Makeup Blindfolded
Set out a variety of make-up items like lipstick, blush, and assorted eye shadow colors. The tweens should work in pairs — one is blindfolded and has to apply make-up to the other — and then the partners swap roles.
Take some pictures of the hilarious results and send the photos to the preteens after the sleepover.
10. Have a Midnight Feast
Prepare an assortment of foods and snacks in advance and set them out for the tweens. Don't allow the sleepover guests to touch the treats until after midnight when the parents have gone to bed.
The kids should clean up after their midnight feast, removing all evidence.
11. Make Your Own Salad and Salad Dressing
Prepare an assortment of pre-cut salad veggies and ingredients for a few salad dressings. Give each tween a bowl, a cup, and a spoon.
Let the kids assemble their own salads and make their own dressings. You can print some recipes for them to follow.
12. Play Spin the Nail Polish Bottle
Supply a variety of colored nail polishes. To play this game, the kids sit in a circle, around a bottle of nail polish. One person should spin the bottle, and whoever the bottle points to when it stops, must paint one fingernail and one toenail that color.
Keep playing until everyone has a full set of painted fingernails and toenails. If you want to speed up the game, have the chosen preteen paint one nail of each person in the circle, per turn.
13. Design and Make Personal Journals
Give each tween a small notebook with a plain cover to design and take home.
Provide paper, glue, scissors, and an assortment of pens, pencils, markers, stickers, and pictures to cut out.
Fun Things to Do at a Sleepover for Teens
Teenagers aged 13 to 17 enjoy creating and using their knowledge. These are some of the most fun sleepover ideas for teens to showcase their talents:
14. Play Board Games With a Twist
Choose a popular, well-known board game. Allow the participants to change the rules of the game.
They can have fun learning the new rules of the game and playing in a new way.
15. Play General Knowledge Games
Prepare a sheet with five columns with headings like "Popular Boys Name," "Popular Girls Name," "Name of a Car," "A Movie/TV Title," "A Book Title," "A Celebrity's Name," "A Country," "A City," "A Famous Politician," or any other headings you like. Make a copy for each player.
Write the letters of the alphabet randomly on a big piece of paper and circle each letter. The participants take turns being blindfolded and place the point of their pen on the paper. Whichever circle the pen lands on is the letter for that round, and everyone has to fill the columns on their sheet with information starting with that letter.
Allow one minute for each letter. Each answer gets a point, and the winner is the player with the most points at the end of the game.
16. Make Tie-Dye T-Shirts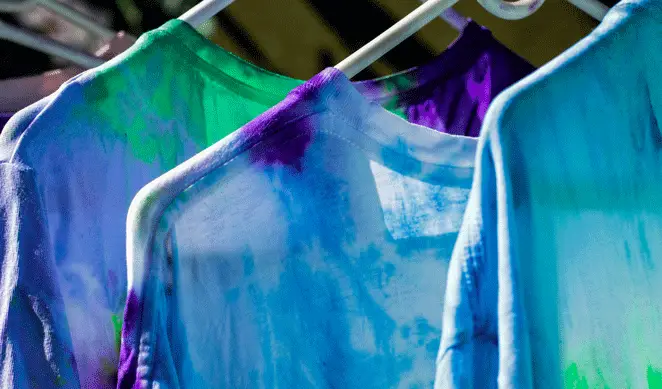 Give each teen a plain white cotton T-shirt, or ask them to bring their own plain-colored T-shirt. Supply disposable gloves and rubber bands. Prepare a few buckets of water with different colors of fabric dye.
To dye, the teens scrunch up their shirts with rubber bands and dip the fabric in the dye, then hang the shirts out to dry.
17. Set Up a Selfie Photo Booth
Provide a few interesting backdrops, and lots of props like hats, feather boas, costume jewelry, costumes, and any other suitable items you may have. Let the teens dress up, choose their backgrounds, and take selfies.
The teens can also take pictures of each other and share the photos on their phones.
18. Host a Talent Show
Each teen competes by singing, dancing, miming, doing stand-up comedy, or any other act that they like. The others award points on a 1—10 scale.
The contestant with the most points wins.
19. Horror Movie
Teenagers love proving that they aren't scared of anything.
Screen an age-appropriate horror movie, giving each teen a blanket to snuggle with or hide their head under if the movie gets too scary.
Sleepover Ideas for Girls
There are plenty of "girly" activities for sleepovers. Here are some of the most fun sleepover ideas for girls:
20. Host a Pamper Party
Set up a variety of "pamper" stations with assorted beauty products.
Play soft background music to create a peaceful, calm atmosphere, and let the girls pamper each other with massage oils, facials, manis, and pedis.
21. Practice With Make-Up
Set out make-up items like eyeliner, eye shadow, mascara, blush, and lipstick.
Show YouTube videos teaching different make-up application techniques and let the girls practice giving each other makeovers.
22. Practice Hair Styling
Ask each girl to bring her own hairbrush and comb. Supply clips, hair elastics, ribbons, colored hair spray in different colors, mousse, and hair gel.
Show YouTube videos teaching different hairstyling or braiding techniques and let the girls practice on each other.
23. Do Manicure and Nail Art
Supply an assortment of nail polishes, nail art instruments, stickers, and nail glitter. Watch YouTube videos that teach how to do a full manicure or special nail art techniques.
Let the girls practice doing each other's nails.
24. Make Your Own Body Scrub
A body scrub is easy to make using coconut oil, sugar, essential oils, and food coloring. Set out tubs of assorted body scrub ingredients. Supply small bowls, glass jars, and disposable wooden spatulas for mixing the ingredients.
Each girl makes her own jar of body scrub to take home.
25. Jewelry Making
Supply a range of beads in different colors, sizes, and textures. Provide elastic, thread, and small clasps. Let the girls make their own necklaces and bracelets.
For older girls, provide earring hoops, wire, and wire cutters to make rings and earrings.
26. Make a Memory Box
Provide each girl with a small box, like an old shoebox. Supply assorted colored paper, pictures, ribbons, beads, glue, and other craft items.
Each girl makes her own memory box to take home for storing her treasured possessions.
Sleepover Ideas for Boys
Here are some of the most fun sleepover ideas for boys:
27. Paper Plane Flying Contest
Provide paper and teach the boys how to make paper planes. Provide a target board with cutouts of different-sized circles and point values assigned to each circle. The smaller the circle, the higher the points.
The boys should stand behind a line and fly their planes through the circles, getting points for every circle that the plane flies through. The boy with the most points wins a prize.
28. Host an Alien Party
Decorate the room in a sci-fi theme with pictures from Star Wars, skulls, aliens, and planets. Ask the boys to come dressed as aliens. Hide pictures of aliens and have the boys search for them.
Play sci-fi-themed music and teach the boys a moon-walk dance. Provide treats that follow the theme, like cookies decorated as planets.
29. Have a Nerf Gun Competition
Provide nerf guns and targets. Let the boys each have a practice round, shooting at the targets, and then have competitions to see who has the most accurate aim.
If your budget allows, give each boy his own nerf gun to take home as a memento.
30. Hold a Video Game Night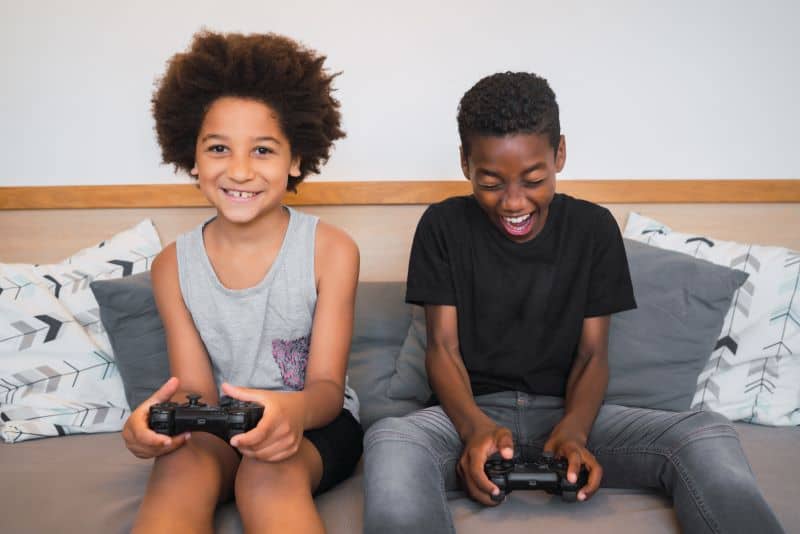 Most boys love video games. Make a list specifying who plays against whom so that nobody gets left out.
Try to find a new game that no one has played before to make the party more exciting.
31. Build Your Own Burgers
Cook burger patties in advance. Set out the burger patties, buns, lettuce, sliced tomatoes, sliced onions, pickles, sauces, and relishes.
The boys can each assemble their own burgers. Older boys may enjoy barbecuing their own burger patties.
Sleepover Food and Snack Ideas
There are lots of easy and cheap snack options for sleepovers. Plan enough snacks for the number of children that will sleep over.
Sleepover Junk Food Snack Ideas
These are some easy and popular "junk food" snack ideas for sleepovers:
Potato chips and dips
Popcorn
Nachos and dips
Pretzels
Ice cream with toppings
Gummy candies
Sweet pastries
Cookies
Cupcakes
Easy Sleepover Dinner Ideas
Here are some easy and popular dinner ideas for sleepovers with any age:
Pizza — An easy dinner for sleepovers because you can either prepare it in advance or order from a local pizza place for delivery. Most kids enjoy pizza, and you can accommodate different preferences by ordering several pizzas with different toppings. Allow one to two slices per child, depending on their age.
Hot dogs — A cheap and easy option at a sleepover because most kids love hot dogs. Serve with cut veggies like peppers, cucumbers, and tomatoes. Offer a selection of sauces to make the hotdogs more interesting. Allow one hotdog per child, with a few extras in case anyone wants seconds.
Hamburgers — A quick and simple meal to prepare that can be cooked in advance. Provide assorted toppings like lettuce, tomatoes, onion, and pickles for the kids to personalize their burgers. Allow one burger per child, with a few extras in case anyone wants seconds.
Macaroni and cheese — A popular sleepover dinner that is easy to prepare in advance. One 9 x 13-inch pan of mac 'n cheese will feed 8 to 10 small kids or four to six teenagers.
Chicken wings and french fries— A cheap and easy sleepover dinner idea that can be prepared in advance. Pour a sauce of your choice over the wings and cook them in the oven, allowing three to four wings each for young kids, and six to eight for teenagers. A 2-pound bag of french fries serves about 10 to 12 kids.
Lasagna and salad — An easy and filling sleepover dinner that can be prepared in advance and reheated in the oven. A 9 x 13-inch lasagna feeds about six to eight kids. Serve with a green salad or coleslaw, which can both be prepared ahead of time.
Easy Sleepover Breakfast Ideas
These are some easy and popular breakfast ideas for sleepovers:
Pancakes — A stack of pancakes makes an easy sleepover breakfast because you can use a boxed pancake mix which is quick and easy to prepare. A 2-pound box makes enough for six or seven kids. Serve with toppings like maple syrup, chocolate syrup, and whipped cream.
French toast — French toast is a popular sleepover breakfast that is easy to make. Allow two slices per child and serve with maple syrup or cinnamon and sugar.
Muffins — Bake muffins in advance and warm them in a hot oven for two to three minutes to serve for a sleepover breakfast. Offer a variety like bran, choc-chip, or apple muffins. Allow two muffins per child.
Yogurt and granola — Offer a variety of flavored yogurts and various granola toppings, including some with dried fruits, seeds, and nuts. Remember to rule out any nut allergies before offering foods that contain nuts. Allow ½ cup per child.
Cereals and milk — Offer a selection of popular kids' cereals and some healthier options like bran or muesli. Each child will eat about ½ cup of cereal.
Fruit salad — Set out bowls or platters of cut-up fruit and let the kids assemble their own fruit salad, or put out a big bowl of fruit salad and they can help themselves. Allow ½ cup per child.
Donuts — Donuts are a popular, quick, and easy breakfast. Offer a selection of donuts with different toppings and fillings. Bank on one donut per child, with a couple of extras in case anyone wants seconds.
Open sandwiches — Supply slices of assorted bread and spreads or toppings like cream cheese, avocado, grated yellow cheese, peanut butter, egg mayonnaise, and chocolate spread. Provide two slices of bread per child.
McDonald's breakfast – Everyone loves McDonald's, and waking up to hot, fresh Egg McMuffins and hash browns is sure to be a treat for kids and teens of any age.
Drinks — Provide assorted fruit juices and flavored kinds of milk for younger kids. Teenagers enjoy tea and coffee, so offer them interesting flavored teas and coffees.
How to Plan a Sleepover
Meticulous planning and preparation make a sleepover easier on the parents, and a well-organized sleepover is more fun for the kids.
Remember to include the following items in your planning, and work out the quantities according to the number of kids expected:
Snacks
Meals
Drinks
Paper plates
Paper cups
Napkins
Plastic cutlery
Disposable table cloths
Themed decor items
Going-home gifts and toys