Sleepovers are like a relaxing getaway for every kid and teen across the country. It is an opportunity to bond with old school friends or new friends from that hip-hop class your child recently joined.
Having so many children under one roof can be daunting, therefore, finding the right activities to keep all the little treasures busy is key to a smooth and successful night.
Needless to say, impressing friends with new and interesting topics to learn and play does give your kid a confidence boost.
Related Article: 20 Sleepover Ideas Kids will Love
Let's get to it!
1.Film Your Own Music Video or Short Film
Isn't it just the best feeling in the world to listen to your favorite song playing while imagining where you would be on the set of that music video?
A song can mean so many different things to different people depending on the individual's interpretation. So this activity should be a walk in the park and get the kids excited and creative! 
Write your favorite song on a piece of paper and fold it up. Put everyone's folded paper in a hat and do a 'lucky dip'. This will be the song that you will create a video. 
The kids can make up a dance, or dress up as different characters and dance to the song. Another option is to create a short film and act out the scenes and be the stars of their very own movie! 
They can even 'premier' the film at the sleepover while digging into some sweet, crunchy caramel popcorn. Yummy!
2. Funky Flavored Popcorn
Nothing beats the classic salty popcorn flavor… until now!
Who's feeling experimental? 
How do peanut butter and jam popcorn sound? Or maybe chocolate and mint coated popcorn? No, no, I know, you look like more of a raspberry popcorn person to me.
Whether wild and wacky or well thought out, kids of any age would jump at the chance to conjure up a popcorn feast!   

3. Midnight Snack
This one goes way back! Tiptoeing to the kitchen at exactly 12 o'clock and scrambling back up the stairs armed with all the treats and tooth-rotting sweets your arms could carry.
Well guess what? It's still as popular and loved as ever! You could even get the children, or teens, to make their own snacks.
After all chocolate-coated raisins are half healthy right? The older the child the more luxurious the treat they make can be!
Snack away!
4. 'Memory Collector' Decorating
With all the beautifully fluffy, sparkly, glittery journals and scrapbooks that are found on the shop shelves, there is still a chance you will come across someone with the exact same book as you.
So let's be original and make it ourselves! 
The youngsters can all bring a plain journal to the sleepover and paint it with their very own design.  Print out pictures with friends or of places the kids like and start the memory collecting with a bang!
5. TLC Workshop
Oh the bliss of being pampered at a luxurious spa! Well, now you don't have to go very far to be pampered!
Best suited for teens that love a bit of at-home pampering. Set up stations across the room and let the pampering begin. The options are endless!
Make your own face masks. There are thousands of recipes for organic all-natural DIY face masks.
Or a cozy and warm foot bubble bath might just be what your teens needed after a week of sports activities in college. 
Next a nail painting station, the teens can help each other and pamper one another!

6. Hair Styling and Makeup
Just with the number of artistic and 'out of this world' braids you can do with your hair, think of the hours of fun the kids are going to have styling each other's hair!
If the kids are a little younger, face paint is a perfect alternative to makeup! 
The kids can follow a 'how to' book for different looks. For example, if the kiddies love butterflies then there are many butterfly face painting books you can get online or even video tutorials at the click of a button.

7. Paper Plane Challenge
Time for some healthy competition! Make a paper plane out of paper or thin card. Get a big flat piece of cardboard and cut a variety of sized holes in the cardboard. Prop the big piece of card up so that the plane can easily fly through the holes. 
Each hole is a different size and reflects different scores. The smaller the hole the higher the score!
The aim of the game is to fly the plane through the hole and get the highest score. The kids can make a few cardboard stands with holes and for each level of the game.
8. It's Game Night
Board games and puzzles are exciting at any age! Maybe try out a brand new game that no one at the sleepover has played yet and offer the winner a prize.
Do your younger children feel a little left out when the older child has a sleepover? Well, board games can involve the little one in the fun too. Hurray! The house stays conflict free for one more night!
9. Hot Chocolate and Scary Movie Night
What a winter classic! When the teens are too cold to go out for an evening walk with their friends or to go out to the cinema. So let's bring the cinema to them!   
Have everyone all snuggled up in blankets to shield them from both the cold and the scary movies.  A night like this is one every teen should experience!
Hot chocolates don't need to be just plain chocolate either! Create your own signature hot chocolate!
Even the hot chocolate decorations are tastier with a bit of a twist, like whipped cream and a sprinkle of toasted nuts on a pool of hot cinnamon-flavored chocolate milk!   
Okay, can you tell me a 6 to 17-year old that doesn't love pizza? I'll wait. Let the kiddos go wild building their favorite pizza. It is a great sleepover idea to keep them busy for a little bit and then when they are finished they get to enjoy a yummy pizza for dinner! Yum!
This sweet activity is fun for everyone! Grab colorful hard candy and create little sugary masterpieces.
12. Ice Dye
I love this fun twist on the traditional tie-dye. I love the idea of creating fun ice dyed pillowcases perfect for curling up and "sleeping" when the lights go off at the slumber party. Let's be honest, no one sleeps at slumber parties!
13. Matching Pajamas
All best friends need matching pajamas! Give your child and their friends with matching pajamas that you can either include with the invitation or have ready for when they arrive!
Lots of color and lots of jewels, that sounds like a perfect party to me! I love this sleepover idea for all the princess lovers out there!
These personalized hair brushes are perfect for any girls' sleepover. They are cute, fun and personalized!
I mean what says sleepover more than pancakes and jammies? I mean they are essential to any good slumber party, am I right?
17. Unicorn Spa DIY
Every girl deserves a spa night every now and then! That's why I love this Unicorn sleep mask for the perfect spa slumber party!
This is the most EPIC Star Wars themed party I have EVER seen in my life. I love every single little detail of this sleepover. If you have a Star wars lover then these sleepover ideas are perfect for them!
From personalized canteens to camo covered sleeping tents this military sleepover idea is fun and perfect for the boys.
20. Marshmallow Gun
Yes, I said it. Marshmallow. Gun. Two simple words, but endless fun. Let boys be boys with these fun and easy toys, there is fun to be had ALL night. The best part no one can get hurt!
21. Nerf Targets
Now I know my boy loves NERF, I mean it is the greatest form of attack at our house. These fun Nerf Target ideas will keep the boys entertained for hours.
22. Video Game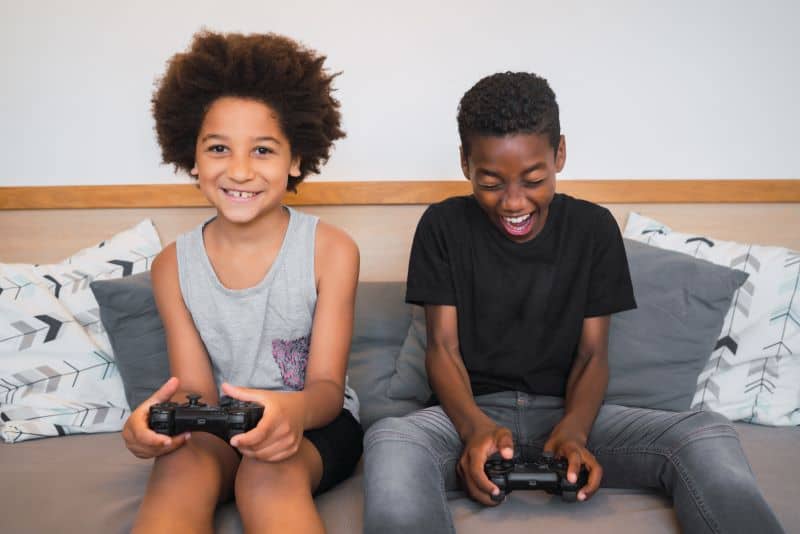 If you have a little gamer that loves all think gaming, then this video game themed party is perfect for them. From cake to sleep these ideas are one of a kind!
23. Popcorn Bar
Create a delicious popcorn bar for everyone to enjoy! There are so many different great ideas out there for a popcorn bar. From the yummy toppings to the types of popcorn you serve, everyone is guaranteed to have the perfect treat! I love this fun sleepover idea!
This is the perfect treat for any party. It's fun, interactive, and oh so yummy!
25. DIY Dream Catchers
Dream catchers are a charmingly fun idea. These sweet DIY dream catchers are the perfect sleepover project idea.
Nothing fuels a gaggle of kids like some sugary breakfast cereal. I love this sleepover breakfast idea, it's the perfect send off to any sleepover!
There are so many fun ideas for slumber parties, more than we could ever list! Let us know in the comments your favorite!